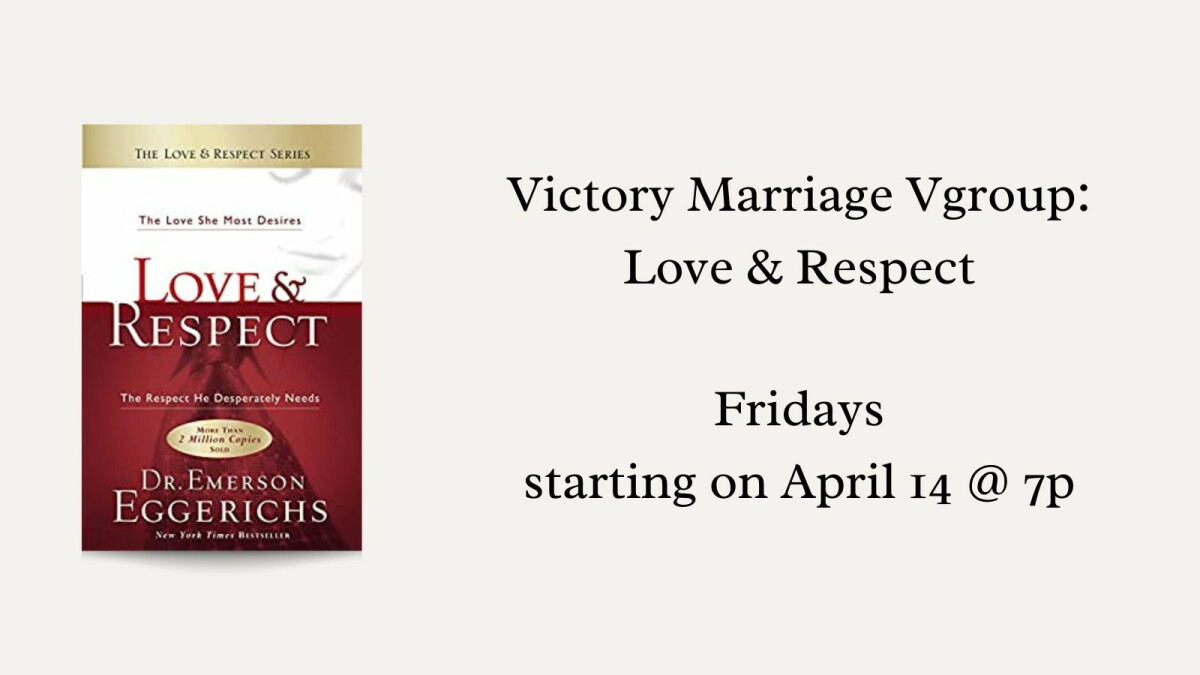 Every Friday, from 04/28/2023 to 06/16/2023, 7:00 PM - 8:30 PM
Cracking the communication code between husband and wife involves understanding one thing: Unconditional respect is as powerful for him as unconditional love is for her.
It's the secret to marriage that every couple seeks, and yet few couples ever find. While both men and women deserve both love and respect, in the midst of conflict, the driving need for a woman is love, and the driving need for a man is respect. When either of these needs isn't met, things get crazy.
Victory Marriage is starting the Love + Respect study by Dr. Emerson Eggerichs on Friday, April 14th at 7p at Victory*.
If you want to feel peace, closeness, value, and to experience marriage the way God intended, this book will help you get there! To see and hear testimonies about how other Victory Marriage Vgroups have strengthened other marriages, click here.
What to Expect:
Gain tools to better your marriage
Learn how to deal with negative reactions
Learn how to resolve conflict
Learn how to motivate each other by meeting each other's needs
Cost of material is $30 PER COUPLE
Material will be distributed at the first meeting
Love and Respect is for anyone: those in marital crisis, the happily married, and engaged couples!
Questions? Contact Cathie or Mario Santiago.
*A detailed schedule of meetings will be shared at the first meeting