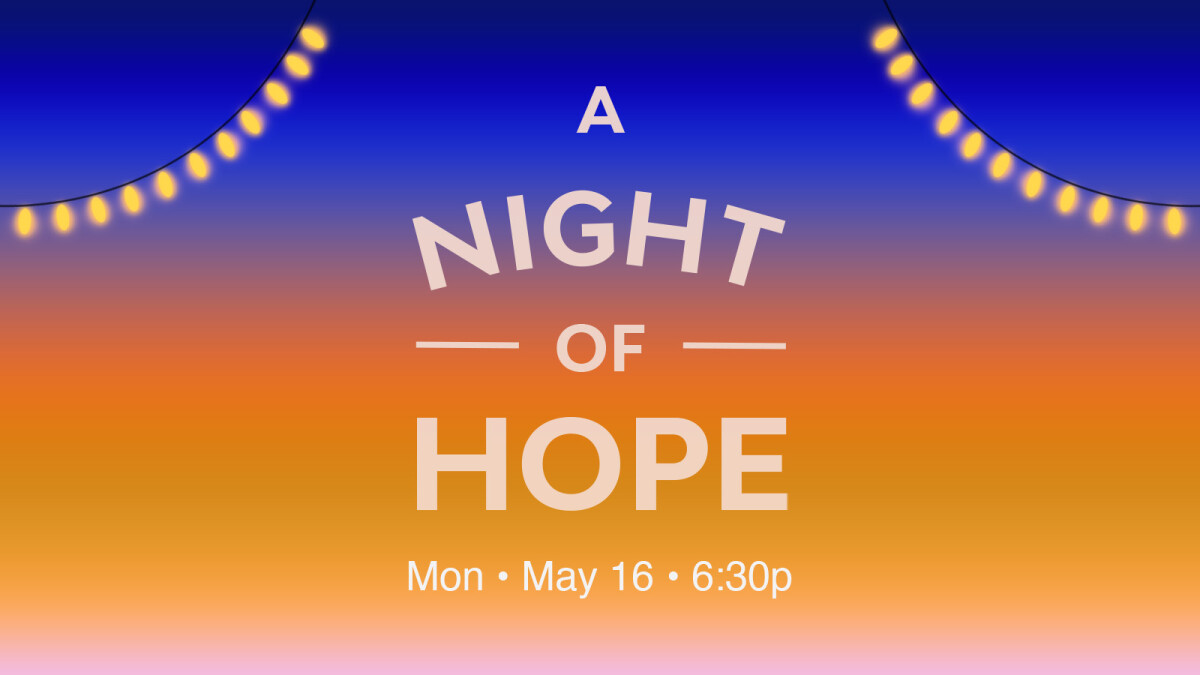 Monday, May 16, 2022, 6:30 PM - 8:30 PM
Are you struggling through life? Has the COVID-19 pandemic left you feeling hopeless or fearful of what's ahead? It's time to end the cycle and find healing + hope at Victory Church during "A Night of Hope".
During this one-night-only seminar, you'll hear from Dr. Jessica Sanderson of Urban Alliance, and Pastor Randy Tapp of Victory Church and learn practical ways to overcome the grief, loss, and despair that the pandemic has caused you, including:
Loss of job/income
Marriage
Death
Isolation + physical separation
In addition to this seminar, you'll meet the directors of and learn more about:
Celebrate Recovery: If you've ever been hurt, let down, disappointed, angry, anxious, bitter, jealous, fearful, or broken, Celebrate Recovery is for you. It is the original judgment-free zone that uses Godly principles to help you unravel and heal from any hurt, habit, or hangup that keeps you from the freedom found in Jesus. CR has groups just for men, women, and Veterans.
Marriage Ministry: Gain tools to build a strong foundation for your marriage no matter how long you've been married or what stage your marriage is in. The mission of this ministry is to strengthen, transform, and equip marriages to build a solid, Godly foundation based on the covenant of love, forgiveness, respect, and oneness through Jesus Christ.
GriefShare: GriefShare seminars and support groups are led by people who understand what you are going through and want to help. Gain access to valuable GriefShare resources to help you recover from your loss and look forward to rebuilding your life.
DementiaCare: Caring for a person with Alzheimer's or dementia often involves a team of people. Whether you provide daily caregiving, participate in decision making, or simply care about a person with the disease — we have resources to help. We will provide education and resources to dementia caregivers so that caregivers can deliver the highest level of care and support to establish a safe environment in the home.
DivorceCare: Going through a separation or divorce can be devastating, but you do not have to walk through it alone. DivorceCare is a small Bible-based support group that will help you heal from deep hurts and discover hope for your future.
Financial Counseling: Learn more about how your money can work for you. We have a financial ministry that can answer all your questions about money and how to get your life on track.
Community Resources: From education, housing, to other basic necessities, our Community Resource Table will be stocked with literature on how to get you connected with the assistance you need.
Light refreshments will be served. The first 50 people to sign up will receive a copy of "Sweet Tea for the Soul: Comforting, Real-Life Stories for Grieving Hearts", a $12.99 value.
Questions? Contact Dr. Mel Tavares at call Victory at 860-346-6771.