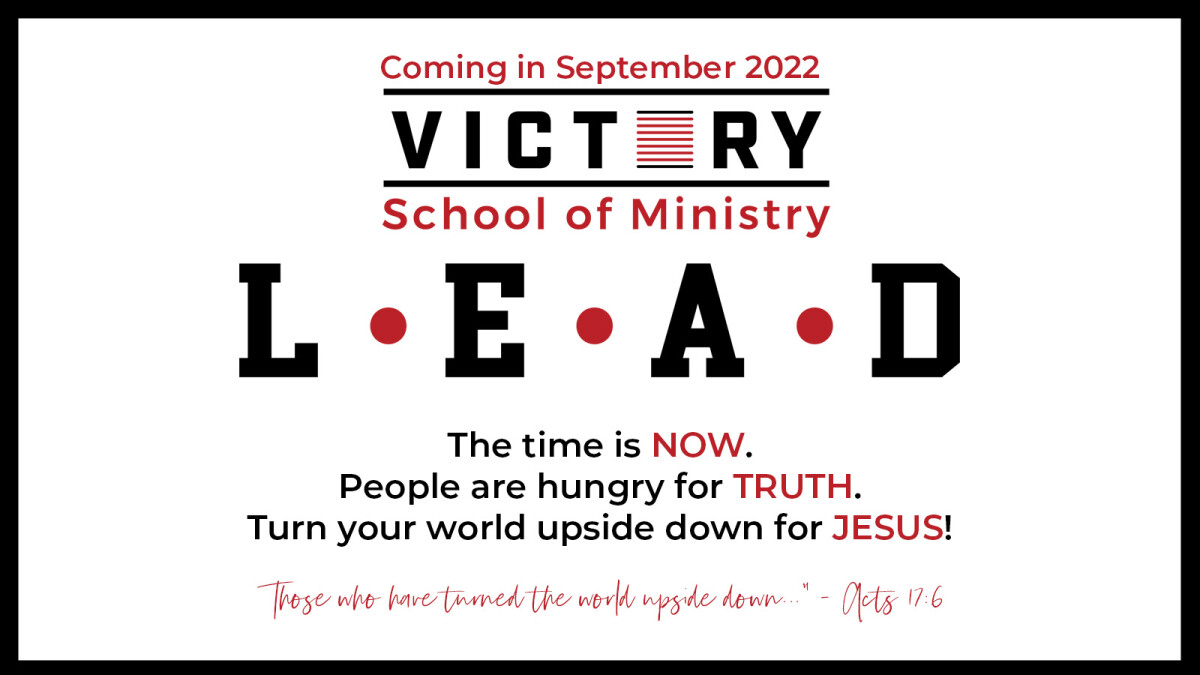 Thursday, August 18, 2022
LEAD YEAR - 2022/23
CLASSES BEGIN: Thursday, August 25th, 2022
LOCATION: Victory Church
STUDENTS CAN ATTEND VSM in 3 WAYS:
VSM - In person
VSM - Livestream
VSM - Recording
***Everyone is encouraged to attend in person!
VSM Mission Statement
Developing passionate, Christ-centered leaders who transform culture.
Passion. Lead. Transform.
VSM is a 3-year program that can be completed in any year order.
VSM focuses on 3 key aspects: PASSION. LEAD. TRANSFORM.
PASSION
Passionate men and women of the Bible changed the course of history. Dig deep and discover what fueled and motivated them to be world changers. Understand the pivotal role passion plays in your life.
LEAD
Leadership isn't about having a title. It's an opportunity to influence those around you. Learn Biblical truths and develop the skills that make you effective in leading others for Christ.
TRANSFORM
The power to transform culture comes from the Holy Spirit. Period. God is on the move mobilizing a people who will impact generations. Seize the opportunity. The time is now.
WHAT TO EXPECT
2 Semesters per school year
1st Semester: Sept - Dec, 2022
2nd Semester: Jan - May, 2023
2 Classes per Thurs night: 6:30p – 8:30p
Classes Begin: Thurs, Aug 25th, 2022
Classes End: Thurs, May 11th, 2023
Teachers are Dr. Peter J. Leal + Pastor Petey Leal Jr. (there will be guest teachers/ministers also)
You can attend classes either in-person, via livestream or via recording (we will NOT be Livestreaming on our public Victory Facebook/YouTube platforms)
Small amount of "at home" work (homework) each week
Deadline to register is Thurs, Aug 18th, 2022
To learn more about the program, class format, schedule, and more, click here.
Questions? Contact Laurie Labieniec.